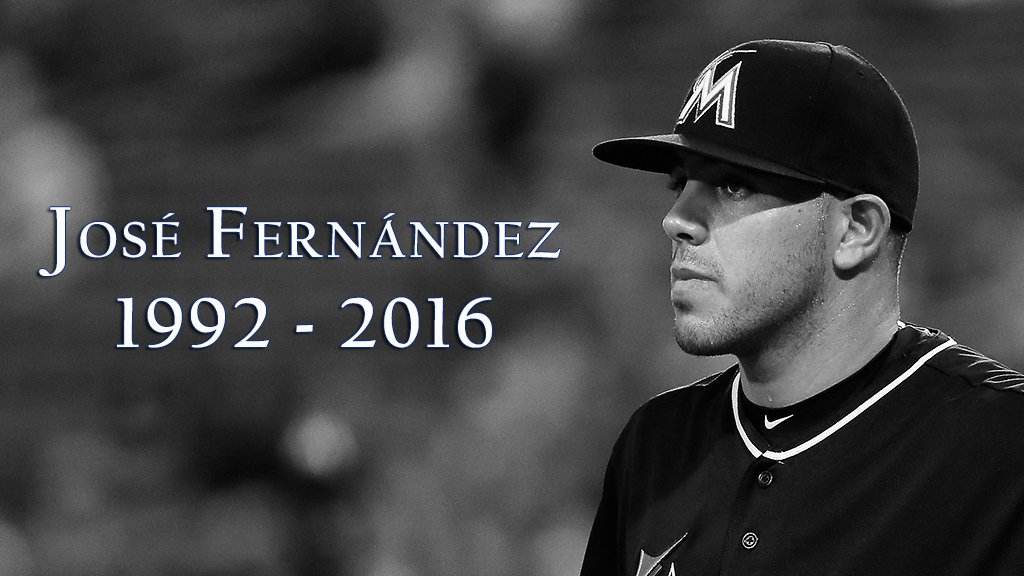 My first post on this blog was supposed to be a happy one.
I was all excited about finally jumping back into the blogosphere, and was trying to figure out what topic to discuss in my first post. What could the breakout FPS hit of 2015 learn from the breakout FPS hit of 2016? What could NASCAR's Chase for the Sprint Cup look like in 2021? Is Josh Turner ever going to release another album? The possibilities seemed endless.
So naturally, I jumped online this morning to discover that José Fernández, one of the biggest young stars in Major League Baseball, had died in a boating accident this morning. So much for kicking off the blog on a high note…
Fernández exploded onto the scene in 2013, running away with the NL Rookie of the Year award and even getting some serious Cy Young consideration. Arm troubles derailed him for the next two years, but he had regained his dominant form in 2016, and looked poised to give batters nightmares for the next fifteen years.
At 24, Fernández seemed to have it all: Fame, fortune, and even a baby on the way. If you closed your eyes, you could easily imagine him giving a witty speech on a stage in Cooperstown in twenty years, with a proud family sitting in the front row, a plethora of awards sitting on his mantle, and several hundred million dollars sitting in the bank.
Then you open your eyes again…and he's gone. That's what makes this hurt the most: The thought of what might have been, and knowing now that it never will be.
If there is anything we can take away from this tragedy, it's that death is coming for us all someday, so if you've got a dream or a plan or a vision for your future, you'd better get off your lazy butt and start making it happen. Consider the following:
"…Fernandez served as an inspiration to many. On top of making baseball better and more fun, his success kindled hope for the existence of the American dream: Fernandez fled Cuba in a fraught defection at age 15, saving his mother's life in the process, and moved to Florida with little English and no understanding of the American lifestyle, then turned himself into a superstar in half a decade." —Ted Berg, For The Win
So in the span of ten years, Fernández achieved the American dream and became a baseball superstar. How did you spend the last decade? If your answer is "Well, um…" then you'd better start figuring out what you really want out of life, because the curtain may fall sooner than you think. (I'm kicking myself right now for not starting this blog years ago.)
In short, José Fernández was a vibrant spirit with a big fastball and bigger personality, a man who lived life to the fullest and enjoyed every moment of it. We should all be so lucky.
Rest in peace, José.