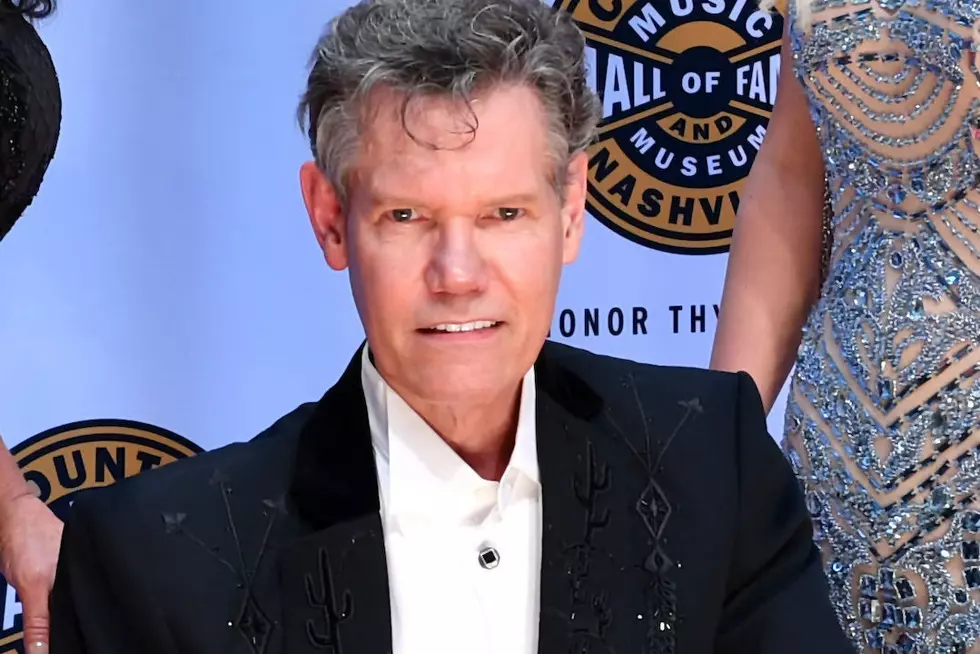 When it comes to Randy Travis, it would be quicker to list what hasn't happened to him than what has.
The roller coaster that is Travis's life spent most of the 2010s on a downhill slope: Metaphorically-crippling financial trouble, literally-crippling strokes, divorce, drinking, family drama, and…well, the less said about 2012, the better. Both his early years and recent history have been marred by trouble, but in the eye of this storm sits a decade where Travis was arguably the king of country music (which contains a few years in the 1980s where Travis was inarguably the king of the genre). He doesn't get the name-drops that George Strait or Alan Jackson get these days, but he's commonly credited from pulling country music out of its post-Urban-Cowboy malaise and ushering in the neotraditional movement that dominated the airwaves for the rest of the millennium. For all the troubles that have befallen him, Travis remains a revered figure in Nashville, and Sam Wilson declared that his career deserved a closer look:
This request hits close to home for me, as I consider Randy Travis the greatest country singer of all time, and I'm not sure I can really do this topic justice without reading his recent biography (which my fellow Kyle over at SCM found to be incredibly frank and candid). A cursory look at Travis's career, however, indicates that the craziness of the past decade was nothing more than a coda to Travis's musical career: His last Billboard #1 came in 2002, and his only notable appearances since then were as a duet partner on Carrie Underwood's 2009 "I Told You So" cover and as a silent participant in the 2016 "Forever Country" collab. His mainstream career was over long before all this you-know-what hit the fan, so what happened? How did Travis's career collapse?
As I tried fitting the pieces back together, a strange narrative began to emerge: Country music didn't put Randy Travis out to pasture as much as Travis struck out on his own looking for greener pastures. He treated country music the same way I treated Pokémon Sword: He conquered the story mode, played through the post-game content, and then set the game down and started looking for a new challenge. Ironically, the man who never seemed to wear a cowboy hat wore three hats over the course of his career, and was the rare artist who got to close the door on his career himself.
Act I: The Singer
When Travis signed with Warner Bros. in 1985, country music (to put it mildly) was not in a great place. After the movie "Urban Cowboy" spurred the genre to massive crossover success in the early 1980s, the industry crashed hard as the trend began to wear out its welcome. Record sales went into freefall, radio singles were lambasted for being formulaic and soundalike, and the industry's target demographic was graying as a new generation of consumers turned to other genres for sustenance. ("Formulaic"? "Soundalike"? This sounds like every Boyfriend country review I've written in the past four months.) A "new traditionalist" movement had started to emerge, but despite the presence of artists like future king George Strait, the movement had yet to find a true leader that would lead it into the spotlight.
Travis's major-label debut "On The Other Hand" famously flopped the first time it hit the radio and died in the high sixties on Billboard's airplay, but after its follow-up "1982" made it to #6 in 1986, Warner Brothers made the bold, now-famous move to re-release "On The Other Hand"…which only went on to became Travis's first #1, earn the ACM's 1986 "Single Of The Year" award, power Travis's debut disc Storms Of Life to triple-platinum status, and send Travis's career into the stratosphere.
The next few years saw Travis dominate country music in a way that even Luke Combs could only dream of. The explosion of Storms Of Life onto the scene made a sophomore slump inevitable, but Travis had only four words in response:
Even today, over thirty years after the track hit the charts, I still hear "Forever And Ever, Amen" on mainstream radio from time to time. The song has become one of the cornerstone songs of country music, and it turned 1987 into the year of Randy:
The Song Won: CMA Single of the Year, ACM Single of the Year, ACM Song of the Year.
The Album (Always & Forever) won: ACM Album of the Year.
Randy won: CMA Top Male Vocalist, ACM Male Vocalist of the Year.
And then for good measure, the trio cleaned up at the 1988 AMA Awards (Favorite Country Male Artist, Album, Single, and Video) and capped it off with a freaking Grammy award for 'Best Male Country Performance.' Oh yeah, and did I mention the album sold five million copies?
Travis was now the face of the neotraditional movement in country music, and he spent the rest of the decade cleaning up: Two more double-platinum albums, a streak of seven consecutive number one hits, a constant nominee for prominent awards (though not that many wins), and praise and worship from the artists that would eventually knock him off the throne (most notably Garth Brooks).
By the time the musical consciousness of a certain blogger awoke in the early 90s, Travis was no longer the dominant force he had been in the last decade, but he still had a strong, consistent presence near the top of the charts. Wikipedia's single discography table may not look terribly impressive on first glance, but that's because Travis had the clout to start dabbling in risky projects like Heroes & Friends (an album of duets with everyone from Dolly Parton to B. B. King to Clint Eastwood) and Wind In The Wire (an album of cowboy songs for a TV movie that you can't even find on YouTube). In terms of gambling with a thriving career, the only recent comparison I can think of is Brad Paisley's release of his guitar-centered album Play in 2008, but Travis seemed to be playing with house money, and his mainstream releases (including This Is Me, the first album I ever purchased) still had staying power.
That staying power, however, disappeared with the release of Travis's 1996 album Full Circle, with none of the radio singles even reaching the Top Twenty. Suddenly, the usual trouble signs started to appear: The noticeable sales dropoff, the switch from Warner Bros. to Dreamworks in 1997, the brief sugar rush of You And You Alone giving way to the crash and burn of A Man Ain't Made Of Stone, and so on. Outside of a miracle single in 2002 (don't worry, we'll get there), Travis was effectively done in country music.
So what happened? Well, we already concluded that the late-90s Shania Twain-fueled push back towards pop-country brought down everyone from Alabama to Lee Ann Womack, so that could be a likely candidate. In truth, by the time country music turned away from Travis, he already had one foot out the door.
Act II: The Actor
(Editor's Note: Ha! I had no idea Rusty "The Logger" Dewees was in Black Dog.)
Randy's discography started to tail off in the 1990s, but his filmography suddenly began in earnest, starting with some recurring roles on popular TV shows (Matlock, Touched By An Angel) and ending with Travis starring alongside the likes of Rob Lowe (Frank & Jesse, 1994), Patrick Swayze (Black Dog, 1998), and Matt Damon and Danny Devito (The Rainmaker). In all, IMDb lists lists twenty-seven acting credits for Travis from 1992 to 2000, and when compared to the twenty-three radio singles released over this same period, it means Travis was actually more prolific as an actor than as a musician!
I recall a prominent country music voice (I think it was Ralph Emery?) saying years ago that Travis's career fell off when he started thinking "movie star" and making a push in Hollywood. The correlation isn't a great one: This Is Me's April 1994 release date followed a year of Travis making cowboy movies yet produced four Top Ten singles, and You And You Alone performed well despite its 1998 release date (Fun Fact: The album has what I would call my favorite Randy Travis single "Out Of My Bones," and I'm still personally offended that Faith Hill's "This Kiss" blocked it from becoming a Billboard #1.) Still, he made an ominous statement in 1994:
"I see myself always working on albums — as long as we can sell a few, as long as there's a reason to keep making them."
Full Circle wound up selling less than a few albums two years later. Was this the impetus that pushed Travis away from music and back towards acting? (Also, tossing a heavy movie schedule on top of a busy music/touring schedule seems like a tough assignment for anyone, and it's fair to wonder if Travis's attention was divided and his focus started to drift. I still think those albums were great, but I seem to be in the minority.)
Despite a few high-profile co-stars, Travis was never more than a bit player in Hollywood. The Rainmaker earned some notable plaudits, but no one was raving about Travis's turn as Billy Porter, and ultimately…well, his star on the Walk of Fame is for music, not movies. Eventually, even he seemed to realize he was Michael Jordan playing baseball, and his filmography decreased dramatically after 2001. By now, country music had mostly moved on from Travis's neotraditional sound, but there was another genre that was more than willing to catch a falling star.
Act III: The Farmer, The Teacher, The Hooker, And The Preacher

Starting with 2000's Inspirational Journey, Travis become a full-time gospel act, singing gospel standards and releasing only faith-infused country tracks to country radio. It's an oft-overlooked phase of his career, even if it produced the last major hit of his career.
From an award perspective, Travis's impact in gospel actually looks pretty similar to his arrival in country music. Consider his haul of Dove Awards:
| Song/Album | Award |
| --- | --- |
| Inspirational Journey | Best Bluegrass Album (?), 2001 |
| "Baptism" | Country Song Of The Year, 2001 |
| Rise And Shine | Country Album Of The Year, 2003 |
| Worship & Faith | Country Album Of The Year, 2004 |
| Passing Through | Country Album Of The Year, 2005 |
| Glory Train | Country Album Of The Year, 2006 |
| Around The Bend | Country Album Of The Year, 2009 |
(Another Fun Fact: The Country Album Of The Year award was not given out in 2001 because there weren't enough eligible nominees!)
You get the distinct feeling that gospel was not used to or ready for an artist of Travis's stature to drop into their laps, and they lavished him with praise, even for albums like Passing Through and Around The Bend that were decidedly not gospel discs. There's one award that's missing from the table, however: The "miracle single" I mentioned earlier, and the 2004 Song Of The Year:
I'm not a religious person by any stretch of the imagination, but calling this track a "miracle single" might actually be underselling it. Not only was it a gospel hit, it unexpectedly caught fire on the mainstream country charts, reaching #1 on the country charts, cracking the Top 40 on the Hot 100, and earning a Song Of The Year award from the CMAs. (Putting my critic hat on for a second, this remains one of the great story songs of the new millennium, and the combination of warm, uplifting production and Travis's exceptional baritone makes this a sheer joy to listen to.) The song catapulted Travis back into the country music conversation, and was likely the reason he tried to rejoin the genre with Passing Through soon afterwards. The sell-by date had passed on Travis's mainstream career, however, and he wound up playing out the string on the gospel side of the fence for a few more years.
Conclusions
Looking back at Randy Travis's career, its demise feels like an own goal more than anything the genre or musical climate did. After a long stint at the top of the mountain, Travis caught the acting bug and decided to start a second act in Tinseltown, and his career eventually caved in under both internal and external pressures. Given his 2000s-era success in gospel music, I feel like a dedicated Travis could have squeezed a bit more mileage out of mainstream tenure, even a distracted Travis produced some of my favorite songs of the era. Still, even with his voice stolen by the 2010s stroke (and thus his recording career being over period), it's hard to quibble with his career choices. How many people in the world get to be a rock star and a movie star? Even if Travis's second act wasn't nearly as fruitful as his first, the totality of his impact is deep enough to gain entry in the select group of upper-tier country legends.
Personally, as a fan of everything from Storms Of Life to Under The Influence, Vol. 2, I'm sad for what appears to be a premature end to his musicmaking, but I wouldn't have him change a thing about his career. Country, gospel, or film: To me, he will always (& forever) be the best.