Bands are a common feature of most musical genres: A group of people get together, decide they sound passable, choose the weirdest possible name, and voila! A new act has arrived on the scene, even if that scene is just a garage or a local corner bar. Country music, however, is an exception: While groups have certainly left their mark on the genre (The Carter Family, The Statler Brothers, The Oak Ridge Boys, Alabama, etc.), the landscape is by and large dominated by individuals, with standout singers backed by anonymous players. (Case in point: Only five out of the top fifty singles on the May 3rd Mediabase chart are led by duos or groups, with a sixth featuring a duo in…well, a featured role.) In recent years, groups tend to emerge via Nashville's time-honored tradition of copying whatever is successful in the moment (witness all the bands that were signed after Alabama began dominating in the 1980s). Very few of them leave the legacy of an Alabama or Rascal Flatts, but they usually drop at least one track that resonates with listeners and stays with them long after the track has left the charts. One such band is the Canadian group Emerson Drive, whose brief rise and rapid fall left folks like Antoinette asking "What happened?"
The crazy thing about Emerson Drive is that if you're north of the border, the group hasn't really gone that far: The group has maintained a strong presence on the Canadian charts over the last decade, earning a Top Ten hit as recently as 2018. They've all but disappeared from American radio, however, which begs the question: The group had some big hits during the 2000s (most notably their 2007 #1 "Moments") so why couldn't they turn their momentum into something more sustainable? The truth is that we've identified a number of factors that are crucial to long-term success in country music, and none of them were working in Emerson Drive's favor during their foray in the States.
Part I: The Origin Story
Emerson Drive was formed in the mid-90s under the name "12 Gauge," and didn't start making noise at a national level until 1997 with Until You Walk The Tracks, which spawned a pair of tracks that found their way into the lower regions of Billboard's Canadian airplay chart (the best-performing of these songs only made it to #36). Despite their meager track record, the group decide to move to Nashville in 1999 looking for their big break. This choice seems like an odd one to me: If you were struggling to succeed in the Canadian market, why would you try your luck in a tougher and more-crowded market in the U.S.? (Then again, given how many American country singles cross over onto the Canadian charts, perhaps they were already competing with them anyway.)
As crazy as the move may have seemed, however, the band's timing was perfect: Bands were seeing somewhat of a renaissance across the musical landscape, and while there were some country acts reaping the benefits (most notably Lonestar and The Chicks), the groups that Emerson Drive owes the biggest thanks too had nothing to do with country music: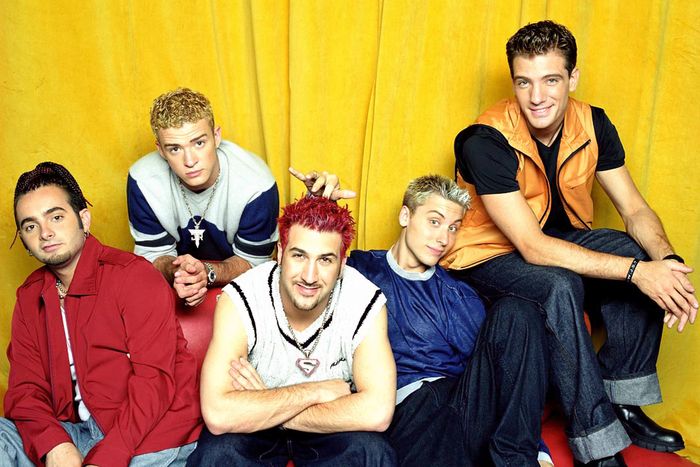 Pop music around the turn of the millennium was dominated by the rise of boy bands, and the two biggest ones were NSYNC and The Backstreet Boys. The names may only pop up today as part of Justin Timberlake's origin story (anyone heard from Nick Carter lately?), but they were all the rage when Emerson Drive reached Nashville: The Backstreet Boys would drop "I Want I That Way" in 1999, and NSYNC would respond with "Bye Bye Bye" and "It's Gonna Be Me" a year later. Country music is forever trying to worm its way into the realm of pop, and when Lonestar's "Amazed" exploded and showed what could be accomplished with a group that was nearly a decade old by that point, major labels began dreaming about what they could do with a boy band of their very own.
Another fortuituos development was the rise of several newer labels that were hungry to make their name in Guitar Town, and finding a countrified boy-band would be just the way to do it. Lyric Street Records (founded in 1997) took their shot in 1999 by Rascal Flatts (SHeDAISY also joined Lyric Street that year), and DreamWorks Nashville (also founded in 1997) decided to make their own bet on the idea, signing Emerson Drive in 2000 and framing them as a hip, youthful group, as seen in their promotional material and videos:
The experiment worked, at least for an album: The group's first two singles, "I Should Be Sleeping" and "Fall Into Me," both cracked the Top 5 on Billboard's U.S. airplay chart and reached the fabled Top 40 on the Hot 100. The band was off and running, or so it seemed.
Part II: Everything's Changed
Yes, I know the title is actually a Lonestar song, but consistency and support are the major factors that can play into a band's long-term viability, and the short version of this post is that Emerson Drive had exactly zero of either when it mattered.
Let's travel back in time to 2002 for a moment: At that point, both Rascal Flatts and Emerson Drive had roughly equal standing. RF had just released the leadoff single for their sophomore album ("These Days," the group's first Billboard airplay #1), but it was only their fifth single in total, and Emerson Drive was going toe-to-toe with them in the battle for genre supremacy. When we look at the fundamentals of each group, however, there were some very striking differences, and likely led to the divergence between the two groups in subsequent years:
Label Support: Lyric Street would eventually fold in 2010, but for the bulk of the prior decade the Disney-owned label was firmly in Rascal Flatts's corner, and even came up with some cross-promotional gimmicks that led to one of the trio's biggest hits ("Life Is A Highway"). DreamWorks, however, was a different story: As Toby Keith found out the hard way, the label suffered from financial struggles, and wound up dropping Emerson Drive in 2004 before closing for good a year later. The group quickly found a new home with Midas Records (founded in 2005), but the label wound up closing its country division in 2008, leaving the group in an awkward position where the rights to their 2008 album Believe were split between Midas (they owned it) and Valory Music Group (they were responsible for promoting it). By the time Rascal Flatts signed with Big Machine in 2010, Emerson Drive was already on its fourth label, signing with Open Road Recordings that same year. (Or maybe the count is five? The Boot reports that the group actually started their own label in 2010.) All these changes meant that Emerson Drive simply wasn't able to establish a consistent presence in the U.S., despite its radio success.
Band Members: Rascal Flatts is Gary LeVox, Jay DeMarcus, and Joe Don Rooney; it always has been, and it likely always will be. Emerson Drive, on the other hand, has been in flux since the moment it was formed: Several members had already left before the group moved to Nashville, and two more members were added before they joined DreamWorks. Between 2002 and 2003, three more members had to be replaced, and tragedy struck in 2007 when bass player Patrick Bourque left the group and committed suicide soon afterwards. While the band has never had to replace their lead vocalist (Brad Mates has been there since the beginning), so much turnover is bound to have an impact on group chemistry and consistency, and with many of the changes happening in the years following hit songs, it's fair to wonder if it was impacting the group's performance.
Producer Support: There was also a bit more turnover in the booth with Emerson Drive as well, as the band had a different set of producers for each album from 2002 to 2012 (and occasionally changed the production team entirely). In contrast, Rascal Flatts made a single transition from Mark Bright and Marty Williams to Dan Huff, with the band itself serving as a co-producer for much of that time. Different producers mean different visions for the group's sound, which further pushed the notion that you never really knew what you would get from an Emerson Drive album.
All the chaos surrounding the band (did we mention they also switched management groups in 2009?) makes their success with "Moments" look even more impressive. "Moments" is a classic second-chance hit, where an act that was thought to be washed up or past their prime explodes back onto the scene with a emotional story song that tugs at the heart strings (think David Ball's "Riding With Private Malone" in 2001, or Randy Travis's "Three Wooden Crosses" a year later). The song, which depicted a chance encounter in which a homeless man convinces the narrator not to take their own life, became one of the most-played songs of 2007 and made Emerson Drive the first Canadian group to top Billboard's American country charts (and also earned the group a few nominations on the genre's awards circuit).
Unfortunately, the story was the same as it was early in the decade: The group was simply unable to build on their success, and they quickly faded into American history. Canadian history, however, was a different story:
| | | |
| --- | --- | --- |
| | United States | Canada |
| Top Ten Songs, 2005-2015 | 1 ("Moments") | 17 |
| Top 20 Songs, 2005-2015 | 2 | 20 |
It turns out that going to the United States was just the thing the group needed to jump-start their career back home: Starting with the last few singles from their sophomore album What If?, Emerson Drive started reaching the upper echelons of the Canadian charts with regularity, even as the group floundered stateside. (It's possible that content requirements for Canadian radio gave the group an advantage up north, but it doesn't appear that all of Emerson Drive's singles meet the guidelines for being "Canadian songs" – for example, "Moments" was written by American songwriters and was likely not recorded in Canada. Later discs, however, contained more self-written material, so those may have qualified.)
Part III: End Of "The Road"
By the 2010s, Emerson Drive's career was essentially finished in America, but they had developed a nice niche north of the border that seemed pretty sustainable. While the group remains active today, one final factor contributed to a massive cutback in the group's schedule: Life. Another band member left the group in 2013 to spend more time with their family, and Mates himself acknowledged that the band was home life was playing a bigger role in the band's decisions these days:
"Well, we were lucky enough when we first started out of high school we were 17 -18 year olds. From that point up till our late 20's nobody was married and nobody had any kids. That's a pretty huge aspect to be able to travel that many days out of the year without feeling the family pull and finding the balance…Now for me personally I have a couple kids and I am married. We do about 30-35 shows a year so it's a pretty big change. I am not going to lie to you, I love this time of my life where I am able to be home and spend time with my kids. Dad still has a cool job that he loves, and that he gets to go out and play for a few months a year."

Mates, as told to Corey (no last name given) at SoundCheck, likely sometime in 2015
Heck, the band's own official website acknowledges the band's shift in priorities, with another quote from Mates saying "We are at a place where we know what we want and have a balance between our personal lives and our life on the road. We get the best of both worlds."
Basically, Emerson Drive isn't around here anymore because they don't need to be around here anymore. At this point in their professional career, they have their dream job: They can tour for a few months closer to home, and they get to be around their family for the rest of the year. They're still kinda-sorta active as a group (their last official single listed on Wikipedia is from 2019), and that's good enough for them. (If only we could all find that sort of peace in our working lives…)
Conclusions
Emerson Drive was a band in the right place at the right time: They got to Nashville at a time when the industry was actively looking for folks like them, and they parlayed the chance into several successful singles. That break, however, was pretty much the only one they would get in America, as constant churn behind the scenes kept them from turning their good fortune into anything more long-lasting. It did, however, make enough noise back in Canada to allow them to put together a respectable chart history, and when they were eventually confronted with the choice of music vs. family, they discovered they could have both.
Could Emerson Drive have been bigger had they been a bit more consistent and had better label backing? Probably, but like the characters in their signature hit, they had their moments, and twenty years after "I Should Be Sleeping" hit the airwaves, it seems they had enough of them to reach a relatively comfortable spot in life today. It can be interesting to ponder what might have been, but if you're content with what actually is, you can leave the looking back to folks like me, and focus on enjoying the here and now.