As someone whose childhood gaming experiences started with the Game Boy Advance and proceeded to include the Nintendo DS, Wii, and 3DS, I can safely say that magic somehow left my system when the Wii U arrived in 2012. And despite the notorious failure of that console, I don't blame it for putting me in something of a gaming blackout period for most of the 2010s. I grew older, and other priorities started taking hold. I suddenly just didn't have time to explore new games at length. When I did sit down to play something, it was usually just an old favorite.
And then, it happened. I finally got a Switch in late 2019, and the thrill was back. I caught up with the latest entries of my favorite series I had, admittedly, neglected for far too long, and now, much like Nintendo, I feel I'm back on top of the world, creating new, magical, and purely unforgettable experiences I thought I couldn't do at an older age.
And now, it's time to celebrate its first five years of life with Kyle, my fellow Switch enthusiast and friend. One caveat I'd like to make with this list is that, because I arrived to the system slightly late to the party, I'm still playing catch-up with some of the most beloved entries in the console's library thus far. And yes, there are two games on my list that are not Switch exclusives – I'd like to think of this more as a list of favorite experiences we've had with the Switch, more than anything else. With that in mind, let's start the countdown! – Zack
Zack's #5: Pokémon Legends: Arceus
The opening slot on any list is the most contentious one, and for my money, this slot could have easily gone to Metroid Dread, or The Witcher 3: Wild Hunt, or Luigi's Mansion 3 or … well, you get it. And even despite my initial glowing review of Pokémon Legends: Arceus, I will admit it's probably the toughest Pokémon game to jump back into once everything is completed, which is a weird criticism for a franchise traditionally known for its otherwise addictive and easily replayable gameplay loop.
But man, what a gameplay loop it is, allowing players to catch Pokémon in real time like they had always dreamed. Despite the simplistic environments, this is a game that's just oozing with charm in its various survival-oriented mechanics, story, and the town-building aspect that I still think is an underrated part of the experience. It's the Pokémon game that fans have been begging for for far too long, and thankfully, GameFreak seems to be taking notes from its success ahead of Pokémon Scarlet & Violet.
(Kyle says: I haven't gotten the chance to try this one out yet, but I applaud The Pokémon Company for finally taking steps to expand on their formula! …But they're still getting a nasty letter from me for only letting me catch store-brand Caterpies.)
Kyle's #5: Dragon Quest Builders 2
I didn't realize how RPG-heavy my Switch library was until I started working on this list. Bravely Default II, Octopath Traveler, Fire Emblem: Three Houses, Pokémon Sword, Mario + Rabbids Kingdom Battle, and the original Dragon Quest Builders were all contenders for my Top 10, but it's the DQB sequel that earns the prestigious spot here.
Was the DQB series a blatant and obvious attempt by Square Enix to shoehorn an existing IP into a Minecraft-style world to tap into the lucrative market of sandbox games? Absolutely, but the move was executed so perfectly that it didn't matter. The characters were compelling, the story was unafraid to venture into deeper and darker territory, and even the visuals were a clear upgrade over the games it was copying from. DQB2 perfected the original formula, making NPCs more active and lively, expanding your home base to a massive island ripe for construction, and upping the ante in the story to the point where…okay, I won't spoil it for you, but those of you who have seen The Matrix might notice some parallels…
RPGs, like plastic water bottles, are generally single-use: You play through them once, you beat the final boss, and you move on to the next game. The building mechanic of DQB, however, invites the player to continue putting together their dream world of the Isle of Awakening, whether by discovering/Googling building recipes or throwing out the script and constructing something unexpected. After the boss was felled, I stuck around for many hours afterwards building farms, resorts, and baseball stadiums, not to mention enough transportation infrastructure to make Joe Biden proud. It was that extended lifespan that elevated DQB2 to #5, and while I haven't played the game in a while now, there are still a few construction projects I'd like to get to someday…
(Zack says: Ironically enough, I'm actually playing through Dragon Quest XI S: Echoes Of An Elusive Age right now and loving my time with it, but I know plenty got into the series proper with this particular entry and sing its praises as an unsung hero of the franchise. And with an opening statement as long as that aforementioned game's title now concluded, I will say I want to try this ASAP – as you'll see from a certain entry of mine below, I like oddly relaxing RPGs that shouldn't make sense but do.)
Zack's #4: Stardew Valley
This game is six years old, the Switch version is five years old, and I just played this game for the first time last month and am hopelessly addicted – understood? Good, because I'll also say that I sort of stumbled upon this game by accident. I usually gravitate toward games that place a big emphasis on storytelling and world-building – and all with a clear end goal in mind. It's one reason why I just never picked up games like Animal Crossing or Harvest Moon.
So, I don't know what compelled me to be in the mood for a game like this, but it's one of those games where I picked it up and couldn't put it down. In essence, Stardew Valley is a farming simulator, but it's really more like a life simulator. You can farm, raise animals, go fishing, fight slime monsters down in the mine, get married, have kids … there's really not a ton you can't do in this game. And the beauty is that, if you want that grand, big adventure, it's right there for you, but you're also free to really just do whatever you want in the game and enjoy it at your own pace. With a town full of characters that are so memorable and charming, it looks like I got that world-building game I wanted originally anyway; I just got to relax and have fun with it, too. And I can't say that nearly as much as I'd like to these days.
(Kyle says: This one is on my list of games to try as well! I think Animal Crossing: New Horizons owes a great debt to Stardew Valley; SV went mainstream in a way Harvest Moon never did, and crafting and farming are now key features of AC:NH.)
Kyle's #4: Among Us
So how can Among Us be so high on my "best Switch games" list when I'm on record saying that the Switch isn't even the best way to play it?
Well, there's a reason this game caught fire at the end of 2020: It's just so darn addictive! As a crewmate, your job is to finish your tasks and figure out who the killers are before they cut down the entire crew; as the imposter, it's your job to…well, cut down the entire crew. The gameplay is simple and accessible, but it's the meeting activities that drive the action: You've got to decide who to trust, who to vote, and who you can sway to your side before the meeting ends. It's got that "one more round" factor that the best games always have (especially when you haven't been imposter for an hour and want one more killer game before you stop).
The human interactions are what make the game so compelling: You're never quite sure what other people are going to do, you're constantly thinking about who's around you and what your alibi should be, and debriefing chat after the match can be quite funny. Of course, the human interactions can be the worst part of the game as well if free text chat is enabled (which it usually is, since trying to communicate with the game's canned statements is a bit clunky), and you're constantly reminded that your allies and enemies are a) young, b) stupid, c) bigoted, d) trolls, e) not paying attention, or f) all of the above. If you can find a good group that sticks around for a few matches (or better yet, organize a group beforehand to play), this is the best way to experience the game. Even in "solo queue," however, I've had enough fun (and sabotage victories) to put this game on my list.
(Zack says: This, sadly, is another game I haven't tried yet but have certainly heard of before. I love the fact that the gameplay completely shifts depending on your perspective, and the strategic element added into its decision-making process means it's another game I'll have to try soon. Hopefully before Breath of the Wild 2.)
Zack's #3: Super Mario Odyssey
I know, shocker that this is here, right? Bet you won't ever guess that my eventual No. 1 selection is Pokémon Brilliant Dia-justkiddingit'sBreathoftheWild. In all seriousness, I actually didn't really love Super Mario Odyssey at first. I still maintain that there could have been a few more worlds to pad out the entire experience, and that the ginormous amount of moons to collect isn't always as satisfying as the more tightly defined missions and hunts for stars of yesteryear in past Mario titles.
Two things happened that changed my perspective completely on this game. For one, I made it to New Donk City, and despite that being the only world where I've collected every Power Moon not counting that stupid jump-roping one, I could easily play around in it for hours on end and never get bored. And then the pandemic happened. I played this game properly for a second run … and it just clicked. That childlike sense of wonder and adventure is something I found yet again at a time when I, along with the rest of the world, really needed it most. Mario controls like a dream thanks to Cappy, and the open-world, sandbox style of gameplay that I didn't explore nearly as well as I should have the first time became a needed escape for me. It's one of those Switch games you expect to see on lists like these, but I don't think there's a game that cemented my return to the thrill of gaming quite like this one did.
(Kyle says: Darn it Zack, did you have to remind me about that jump-roping moon? I had just finally stopped having nightmares about that one…)
Kyle's #3: Triangle Strategy
What can I say about this game that I haven't said already? Its story is deep and detailed, its characters are superb and woven perfectly into the story, and the combat is easy to pick up and feels super rewarding when you pull off a nice move. The Conviction system is an interesting mechanic, although I kind of prefer it in later playthroughs when your stats are built up and you have free rein to make whatever decision you want. The game grabbed me in a way that no other tactical RPG had, and I'm in the middle of my third playthrough (something I haven't truly done with a game since the late 1990s) exploring the different available paths.
I guess I can talk about why this game was released on schedule when a similar game (Advance Wars 1+2: Re-Boot Camp) was delayed after Russia invaded Ukraine. Both games feature nations at war, but Advance Wars treated the idea much too lightly, with its bright, colorful atmosphere and silly, fun cast of characters clashing badly with the grim images and somber reality we see in Eastern Europe. Triangle Strategy handles the topic of international conflict with the seriousness it demands, and is always reminding you of the weights you bear and the costs your choices may incur. Your success on the battlefield can wind up being a Pyrrhic victory, and as the lord of your house you're charged with doing whatever it takes to preserve your demense, whether it be war, diplomacy, or making the hard choice to evict a person or an entire population. When meeting with the Wolffort war council, I imagine that world leaders like Joe Biden or Volodymyr Zelensky go through a similar process: Lay out the options, debate the various pros and cons of each one, and then come together and make a decision.
War is hell, and TS acknowledged this truth while AW ignored it. That's why TS was released, and part of the reason why it's here on my list.
(Zack says: Kyle has convinced me numerous times before that I need to pick this up and try it yesterday, especially given that I just broke into the strategy-centered RPG genre this year (which you'll see below). And since Kyle's description of the game reminds me of a certain entry you'll see from me, know that I absolutely echo his sentiment regarding the contrast between games that view war as a lighthearted game, and ones that treat it as the cold, uncaring monster it is.)
Zack's #2: Fire Emblem: Three Houses
This … is another game I only picked up this year; I told you I was busy playing catch-up! Suffice it to say, then, this was my first Fire Emblem game, and while I understand that the series at this point has heavily divided its fan-base and that this particular game is a different beast all in its own right, I loved every minute of my (multiple) experience(s). The game throws you right in the fold immediately with its combat system, which always looked intimidating from afar with its chess-like mechanics, but is surprisingly addicting in action.
And from there, the story unfolds and lets you take action of which road you want to go down, turning you from a mercenary into a professor (it makes a lot more sense in the game … kind of!) and letting you take charge of a class of characters that you bond with and understand on a deep level. Never in my life have I cared this much for people who don't exist. I'll admit that it's not the best-looking title in the console's library, and if you want the true experience with this game, you'll have to sink a lot of time into it. But don't let that distract you from a game brimming with an overall excellent story at its core. I went from finishing one route to wanting to experience the next one immediately, enough to where I've completed every route there is to complete and have sank 150 hours into this game … which, apparently, is considered a rushed experience! I may be a Fire Emblem newbie who is not a "true" fan of this series (I like playing with permadeath off – and I'm not sorry), but I'm going to follow along starting now, and you can't stop me.
(Kyle says: Pound for pound, I think FE:3H actually has better and more-interesting characters than Triangle Strategy, and my recent experience with TS makes me think I need to go back and try a second run through this game. Also, I agree: Permadeath can go jump in a lake.)
Kyle's #2: Animal Crossing: New Horizons
Back when I reviewed this game, I labeled it "downright Seinfeldian" in that the game had no true endgame and consisted of indefinite meandering on a remote island. Yet I still enjoyed the game, and have enjoyed the game so much that it wound up as my runner-up on this list. Why?
While there's no overarching endgame to AC:NH, the game constantly presents you with a list of mini-tasks that you can complete for dopamine hits. For example, when I played today, I made sure to find and talk to all my villagers, dig up any fossils I found, get the fossils appraised, get the recipes from the crafting villager and the washed-up bottle, sell said recipes and fossils for Bells, check the shops for any interesting items (Model kits and new glasses? Take my money!), plant a $10K money tree (300% ROI, baby!), find the day's special visitor (meh, I don't feel like fishing for CJ today), sit down for a cup with Brewster…and then run around the museum collecting stamps because International Museum Day was a week ago. Back in my "hardcore" days, I was also hitting all the rocks for iron and gold, hitting all the trees for wood, shaking all the trees for hidden items (and getting stung by bees at least twice in the process), watering flowers, catching fish, swimming around the ocean…there's always a ton to do, and it's easy to see how time slips away!
New Horizons takes this series to its logical conclusion: You're essentially a god on your island, and while you don't quite have the crafting power you do in Dragon Quest Builders 2, you're not that far away from it either! You can terraform the entire island to bend the rivers and cliffs to your will, you can arrange furniture outside to create intricate scenes, you can create custom designs for surfaces and clothes (I can run around on my basketball court in a Steve Young jersey!), you can create paths that your villagers will actually follow (they'll interact without outdoor items as well), and of course you can customize your house and choose which of your "dreamy" villagers will share your paradise with you! In turn, this feeds into your list of mini-goals: Now, you can be looking for specific items to complete specific areas, and come up with the best ways to utilize the space you have.
With the way it feels like a) the world is falling apart every time you look out the window, and b) we have almost no control or say in the matter, Animal Crossing: New Horizons provides both the distraction and the control we crave to give our lives some semblance of calm and routine. If only more country singers would give up drinking their problems away and use AC:NH to ignore them instead…
(Zack says: With Stardew Valley now standing as one of those games I go back to every, well, week or so, perhaps it's time I finally take the deep-dive into Animal Crossing, because a peacefully relaxing game where you play on an island and interest with adorable NPCs … man, why didn't this sound like a good idea to me before?!? At a time when games are getting bigger – often to the point of being bloated – I appreciate that there are still casual experiences like this out there that can appeal to anyone, so long as they give it, oh, a minute or so of their time to hook them.)
Zack's #1: The Legend of Zelda: Breath of the Wild
Hey, one of us had to be basic.
In all seriousness, though, I actually get those who say this isn't their favorite Switch game or even their favorite Zelda game, provided one can even call it that, given how much it breaks traditional conventions of the established formula. But that's the thing – by pulling influence from the very first game in the series, Breath of the Wild draws a connecting line between it and that game while forming its own blueprint along the way. What else can I say about a huge open world that brims with personality and feels like it's operating as just that – a world of its own. An escape. A terrifying yet exciting treasure trove of secrets waiting to be unearthed. A place where you can find little green beings scattered across the land that say "yeah, huh, huh" when you find them and are just the cutest things ever. It's certainly not perfect in everything it goes for, but I think for many it's perfect enough for them, and as someone who bought his Switch in late 2019, this became another game alongside Super Mario Odyssey I lost myself in during the pandemic. It was one of the first games for the Switch, and technically it's more of a Wii U game than anything else. But even now, five years later, it's still my pick for the best of the bunch out there.
(Kyle says: This one didn't qualify for my list because I played it on the Wii U, but this game's scope and sense of exploration remained unmatched by any title that's come along since. The only question now is whether or not we're going to get the sequel before 2024…)
Kyle's #1: Splatoon 2
You all knew this was coming. You've seen my Twitter feed, you've seen my blog posts on using and beating different weapons, and you might have even seen me try to convince people that the Undercover Brella is the best weapon ever. Heck, I've used my 'Octo-sona' so much that I'm starting to wonder if I qualify as a furry.
I have sunk nearly 2,900 hours into this game, and have done nearly everything you can do in it. I've completed all the levels in the original single-player mode and Octo Expansion DLC, I've reached X rank in all three ranked multiplayer modes (I've got the X in Clam Blitz as well, I just refuse to acknowledge it as a game mode), I've reached the Profreshional rank in Salmon Run, and I've been working on a long-term project to amass 100 wins with every weapon in the game (I'm up to 98 out of 139 as of this writing). This isn't just my favorite Switch game, it's right up there with Super Mario RPG and Pokémon Pearl as one of my favorite games of all-time.
Shooters are not a genre I consider myself a fan of (back in the day it was mostly platformers, RPGs, and sports titles), so why did Splatoon (another 800+ hours there) and Splatoon 2 resonate the way they did? Part of it was the timing (every grad student goes through a midlife mid-thesis crisis when they feel like they'll never escape and/or accomplish anything), part of it was the Nintendo factor (you couldn't really play Call of Duty on a Wii U), part of it was the "one more game" magic (matches are really short compared to other games, so the sting of defeat washes away fairly quick), and part of it was something I keep harping on country artists to do: Find a way to make your work distinct! Splatoon brought a cartoonish and colorful aesthetic to a genre normally steeped in gritty realism (its quirky and unrealistic presentation allowed it to succeed where Advance Wars didn't), Turf War changed both the typical objectives and mechanics of the game (you don't kill to win, you paint the floor! And swimming through ink makes movement as important as aim!), and the use of motion controls (and they were used well for a change) enabled a whole new way to experience and play the game.
It's been a long time since a game captured my attention like this one, and that's what puts Splatoon 2 at the top of my list. However, it begs the obvious question: What about a certain "three-quel" coming this fall?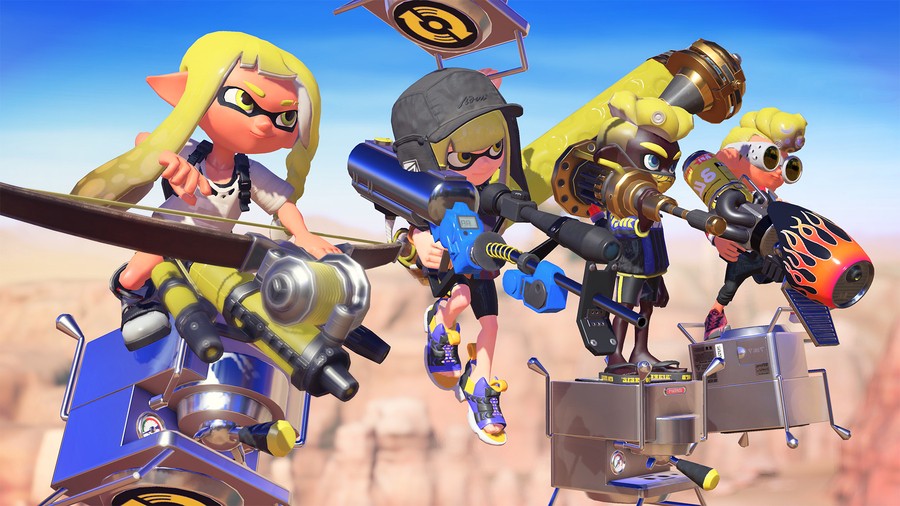 It's hard to say where Splatoon 3 will eventually wind up. The circumstances are very different now, and the older I get, the more all this adult responsibility stuff I've been running from catches up with me. If I'm honest, I don't think I'm going to find another 2,900 hours lying around to devote to more squidkid shenanigans.
Still, I found that time once before, and I regret nothing. Splatoon 2 is a fantastic game, and I consider all those hours I put into it, as Brad Paisley might put it, to be time well wasted.
(Zack says: First of all, I'd like to say that I actually did play Call of Duty, though on the DS. And I don't recommend it. Second of all, Kyle's love for this series has been an infectious joy to read about for years now, and it's part of why I'm a bit sad I missed out on the initial hype with Splatoon as a whole. With the third entry on the way soon, I just may join my friend from the ground up this time around, and I can't wait for that.)