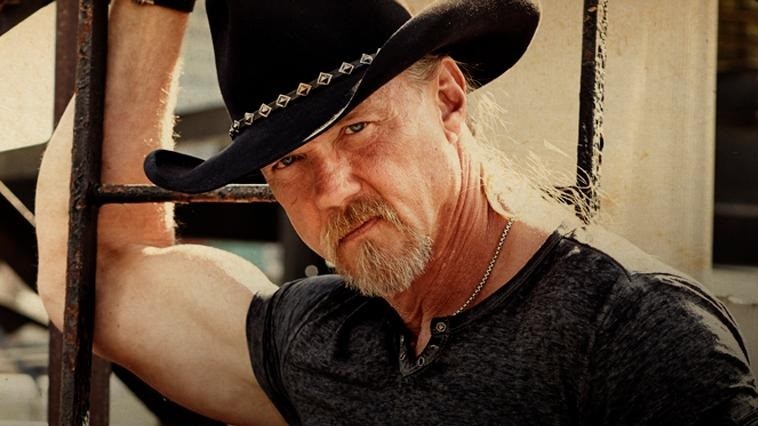 The musical legacy of Trace Adkins is, in a word, complicated. Over the course of his career, he has demonstrated great talent, questionable decision-making, a rough-luck streak that rivals Randy Travis, and oftentimes all three at the same time. When he was on, however, there were few better in the business (heck, he put a song on my 2017 best-of list over twenty years after his career started), and there's no question he left an impression in the minds of country fans of the 90s and 2000s, which led Kory to ask what had become of the not-so-gentle giant:
I've personally always blamed Toby Keith for the destruction of Adkins's career, but you could also make an equally-compelling case that Keith saved Adkins from a lifetime of irrelevance. If you claimed that the fall of Adkins's career was self-inflicted, you wouldn't get much of an argument either: Genre-benders like "Honky Tonk Badonkadonk" and bizarre novelty tunes like "Brown Chicken Brown Cow" stick out like sore thumbs in his discography, and his longstanding battle with alcoholism and the turbulence it caused in his personal and professional life can make his whole story read like a country song itself. In the end, maybe the question shouldn't be "What happened to Trace Adkins?", but "How the heck is Trace Adkins still here?"
From a musical standpoint, Adkins's career can be broken into three phases:
Phase One: The Conventional Country Singer (1996 – 2000)
A lot had happened to Adkins by the time he signed with Capitol Records in the mid 1990s: A bulldozer accident, a severed finger, and most notably being shot through the heart by his second wife in 1994 during an argument over his drinking. On the surface, unlike many of the careers we've dug into, there was no label instability here: Adkins was a fixture on the Capitol roster until the label went "broke" in 2010. Within the label, however, change was a constant companion: The label went through three presidents from 1996 to 2001, and Adkins worked with three different producers (Scott Hendricks, Trey Bruce, Dan Huff) over his first four albums. Despite this, however, Adkins's singles over this period had a relatively consistent sound that fell neatly in line with the neotraditional movement.
However, as we've discussed before, the late 1990s were a transitional period from the late 80s/early 90s neotraditional sound a poppier sound headlined by acts like Shania Twain and Faith Hill. Although Adkins's debut album Dreamin' Out Loud was relatively successful (it produced three top five hits, including the #1 "(This Ain't) No Thinkin' Thing," and his debut single "There's A Girl In Texas" remains one of his most recognizable songs despite only reaching #20), he crashed back down to earth soon after takeoff, producing only a single top-ten hit ("The Rest Of Mine") in the remainder of the decade. Looking back, it could be argued that Adkins did not do enough to distinguish himself from the pack: He did not, for example, make much use of his voice's incredible range, and his releases were heavily skewed towards ballads and stuck to the standard lovin' and leavin' themes of the era. Regardless of the whys, Adkins was keenly aware that what he was doing wasn't working:
"When a reporter referred to Adkins' 'success' as a recording artist, he quickly dismissed the characterization. 'Thank you for having that perception that I've had all this success,' he said with a grimace. 'I appreciate that.'"  ⁠—Edward Morris, CMT, July 2001
(Actually, you can see a similar deep in Keith's output around the same time before he switched from Mercury to Dreamworks.) However, Keith would soon find success as a swaggering, confrontational macho man, and Adkins and Capitol took notice.
Phase Two: The Dangerous Man (2001 – 2009)
2001's Chrome was the first sign that a change was in the air: The first two singles were standard Adkins ballads ("I'm Tryin'" and "Help Me Understand," with the former reaching #6), but the third (the title track) was very different: The guitars were meatier, the percussion included some synthetic elements, Adkins leaned more on his low-end growl, and the writing's focus on hot women and tricked-out rides would have felt right at home a decade later in the Bro-Country era. (As Adkins himself explained on his Greatest Hits Collection, Volume 1 enhanced CD, "Don't look for the deeper meaning behind 'Chrome'; there's not one there.") The song didn't find any more success than the other singles (it would up at #10), but it served as the canary in the coal mine for what was coming next.
Some other statements from that e-CD interview hinted at the artist's new direction as well. For one thing, Adkins declared that "I'm not a G artist. PG-13, leaning hard towards R." This was total baloney: Adkins was practically the definition of a "safe," G-rated artist, with only "(This Ain't) No Thinkin' Thing," "I Left Something Turned On At Home," and "Chrome" even remotely approaching sexual content (and they're demure compared to some of the Bro-Country garbage we got in the 2010s). He also said that he was "a sucker for a good double-entendre," despite "I Left Something Turned On At Home" being his only single that fit that description. Statements like this were aspirational rather than historical, and Adkins would quickly show that he was ready to walk the walk to back them up.
Adkins's next three albums (Comin' On Strong, Songs About Me, Dangerous Man) are best described as a boiling mass of swagger and sexuality, recasting the singer as a macho man with simple pleasures and blunt opinions. It's not hard to see where Adkins's inspiration came from: Toby Keith had struck gold with "How Do You Like Me Now?" in 2000, and spent the next half-decade on top of the genre with his abrasive, in-your-face attitude. Adkins's ripped off Keith's blunt machismo ("Rough & Ready," "Songs About Me"), sprinkled in a dash of Keith's pandering patriotism ("Arlington"), and then put his own twist on the style by incorporating an overt sexuality that would often cross into objectification and even misogyny: "Hot Mama," "Ladies Love Country Boys," and perhaps the biggest hit of Adkins's career:
In hindsight, "Honky Tonk Badonkadonk" was a warning shot indicating what was to befall country music in the 2010s: The slicker, more-synthetic production, the vocal effects and audio jump-cuts, the reduction of a female character to his physical appearance (particularly her posterior), the endless remixes, and on and on and on. The song was denied a #1 on the country charts thanks to Carrie Underwood's "Jesus, Take The Wheel" (perhaps the antithesis of Adkins's song, and possible proof that there is a god after all), but it crossed over to become Adkins's best showing on the Hot 100, topping out at #30. If there was ever a reason Adkins's legacy in country music is so spotty, it is this song: It's the first thing that pops into peoples' minds when they think of Adkins, and it forever made him persona non grata among the genre purists.
Despite the vitriol that Adkins received then (and even now) for his switch, you can't argue with the results: By becoming Toby Keith with an added dose of sexuality, Adkins finally had a brand that was both recognizable and profitable. Comin' On Strong and Songs About Me became his first platinum albums since Dreamin' Out Loud, and he rebounded from his late-90s malaise to become a consistent presence in the top half of the country charts. However, he was still unable to break into the top tier of the genre, earning only a pair of #1 singles in the 2000s and never truly  escaping from Keith's shadow. He still had a weakness for off-the-wall novelty tunes like "Swing" and "Marry For Money," and towards the end of the decade he began to slide back into the mid-tier doldrums that he had found himself in during the late 1990s, a slide that culminated in his eventual exit from Capitol.
Some other concerning factors appeared during this time as well:
This was the decade where Adkins's alcoholism started to spill into his public life. A 2001 DUI led to his first stint in rehab, and while the issue did not arise again during the 2000s, it's hard to believe it didn't color some of the decisions that were made, especially Adkins's departure from Capitol.
The end of the decade saw Adkins start to branch out from music and use his newfound notoriety to open doors in other fields. He published an autobiography in 2007, and he started working more in film and television, most memorably as a contestant on Celebrity Apprentice. This continued into the next decade, suggesting that Adkins's focus had begun to shift from music.
In the end, the 2000s were a profitable decade for Trace Adkins, but by 2009 he was basically in the same position he was in 1999. This time, there would be no rebound.
Phase Three: The Collapse (2010 – 2016)
The 2010s would not be a kind decade to Adkins:
He departed Capitol for Show-Dog Nashville in 2010, recording three albums for the label but only scoring one top ten ("Just Fishin'," which topped out at #6). The era is most remembered for the dumb-as-a-rock "Brown Chicken Brown Cow," which only made it to #39 and forever stained Adkins's legacy in the eyes of those who hadn't forgiven him for his 2000s audacity.
Something else happened here, something that's a bit harder to explain: As Bro-Country started taking over the airwaves and "Honky Tonk Badonkadonk" started sounding less like an exception and more like a rule, the public suddenly decided they wanted to hear the old Adkins rather than the current one. His most successful songs after 2006 were "You're Going To Miss This" and "Just Fishin'", the sort of thoughtful, traditional material that Adkins was more associated with in the 1990s. Rather than rejecting an artist outright due to age as is custom in Nashville, it seemed that the fifty-something Adkins had been deemed unsuitable for the Bro-Country movement, and pushed into an elder statesman role that he wasn't fully ready to accept.
Adkins's alcohol issues coincide with a three-year between 2013's Love Will… and 2016's Something's Going On, and by the time Adkins returned to the scene, nothing was going on: He has yet to crack the Top 40 since 2011's "Million Dollar View."
Conclusions
So what happened to Trace Adkins? I think the finger can be pointed in a lot of different directions: The muscular, Toby Keith style of country was starting to wane by the late 2000s, neither country purists nor Bro-Country fans were terribly eager to embrace Adkins, label instability started to rear its head, poor song selection painted him as someone who couldn't be taken seriously, and the ongoing battle with alcoholism left him in a vulnerable state and unable to properly respond to everything that was swirling around him.
"Watered Down" showed that Adkins is still capable of making musical magic, and Blake Shelton and HARDY have shown that he's still in moderate demand as a collaborator. Adkins reminds me a lot of Marty Stuart in that despite getting limited chart recognition in his prime (only three #1 singles overall), he had an outsized impact on country music, and he'll be remembered (for better or worse) long after he's faded from the public consciousness. His career was an exciting and heartbreaking journey, and while the bad times stick out the most today, I hope people remember the good times too.